August in the Twin Cities is one of the most fantastic times of the year! One of the many reasons is at the end of the month is the Minnesota State Fair. There,  you can see giant swine, butter sculpted heads, anything you can dream of on a stick, live music and great Minnesota craft beer. As well, the results of the MN State Fair Homebrew Competition results are posted. A big shout out  and congratulations to NBA members Bryce Larson, Tim Stuemke, Matthew Tjosaas, Steve Towey and Erin Towey for placing in the Minnesota State FairHome Brew Competition!
On August 4th a small but motley crew of NBA'res met at Indeed Brewing Company to attempt our monthly taproom take over. Alas, we were dwarfed by large group of what appeared to be conference goers. While out numbered it did not deter us having good beer, great conversation and an all around good time.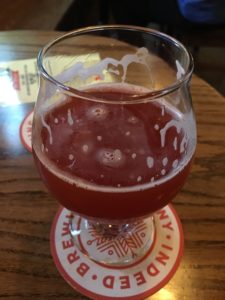 August 20th the NBA was at the Nordeast Farmers Market, to brew, recruit and socialize. While a good time was had, you can never predict the weather.
August Meeting Re-cap
August 18th the NBA convened at East Side Neighborhood Services for our monthly meeting. We welcomed new attendees and touched on what had happen since the last meeting, including barrel fills of the Hobo and Koval barrels and the summer party.
Nick McLawhorn also shard with us a small experiment he had done, which was how long the same beer had been dry hopped.
Upcoming Educational Topics
Saisons – Sept
Diastatic power of differing malt – Oct
Base Malt Experiment – Nov Please sign up if you are interested in participating in this.
August Education Topic – Brew the same beer. 
We had eight members brew the same exact recipe, using the same exact malt, hops, water and yeast. All from the same source. A huge thank you to Matt T, Aaron H, Nick, Steve, Bryce, Aaron D, Matt P and Eric for brewing for this!
10lbs  Golden Promise
1lb Golden Naked Oats
1.25oz of EKG @ 60min
.5oz of EKG @ 20min
.5oz of EKG @ flameout
Danstar BRY-97 Dry Yeast (No rehydrate)
8.25 Gallons Kandiyohi Spring Water
Needless to say it was surprising to see the difference. The major one that stuck out was the difference in ferment characteristic, which after some discussion was thought to be due to the age of the dry yeast. (Always check the dates on your yeast!) Another fantastic experiment and conversation.
Upcoming Events and Important Dates
Sept. 15th 7PM –  Monthly Meeting @ East Side Neighborhood Services
Sept. 24th and 25th 9AM till 5PM (both days) – NBA Big River Homebrew Competition! We need volunteers. Please sign up if you can help.
Sept. 28th 7PM – NBA NHC 2017 Planning @ Fulton Brewing.
Oct 6th 7PM – October Taproom Takeover @ Surly Brewing Company
Oct. 22nd 1-4PM – Eastside Neighborhood Services – Nordeast Big River Beer Festival.