It has been a busy start to 2017 for the NBA!
AHA Wort Rally
On Feb 12 we took part in the AHA Wort Rally at Surly Brewing Co. in Minneapolis. The Wort Rallies are always a good time, but this year had something a little extra: the wort given away this year is the  base wort for the 2017 HomeBrew Con Commemorative Beer.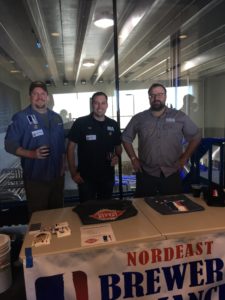 We had great time meeting brewers from across MN, WI, IA and ND. There were some great ideas from different yeast strains, to fruit, hopping, and souring processes.
Monthly Meeting
Thursday Feb 16 was the monthly NBA meeting, graciously hosted by our friends at Midwest Supplies.  We had a chance to meet new members who joined the NBA after the January Annual Party and the Surly AHA Rally.
The highlight of the evening was definitely the canning device (or if you actually work with metals, the seamer). Club members got a chance to purge and fill cans with the Last Straw filler, and run cans through the seamer. We used 24oz "Crowlers" for Jim's Rye Pale Ale and Aaron's Peach Berliner Weisse.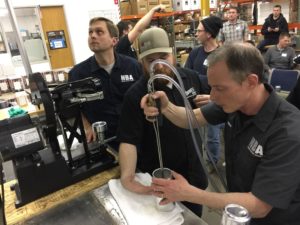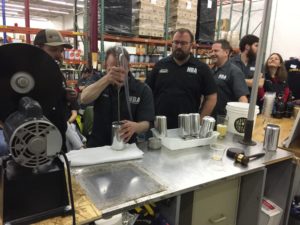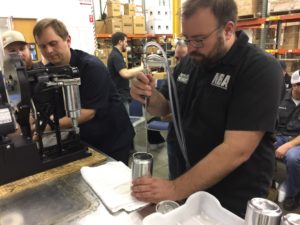 We wrapped up the night over at Steel Toe Brewing for a pint and some Chicago dogs and cheese curds.
On Saturday Feb 25 the NBA will had a club brew day where we brewed for an experiment through Experimental Brewing. The brew day went great, and you can continue to follow along with fermentation and tasting here.
Upcoming Events
On March 2nd will be at Bad Weather Brewing for our Taproom Take Over.
On March 16th @ 7pm we will be at Norther Brewer Minneapolis, bring some homebrew to share and stay for the education session on Malt with BSG. After the meeting join us at Wild Mind Artisan Ales.
Check out the Club Calendar for other upcoming meetings and events.