Recap
We started the month as we do with a Taproom Takeover at Urban Growler. Turn out was low but its still good to have people come out to support our local businesses.
Rahr and BSG invited us out to Rahr Malting facilities for a tour. We had a few beers at the Stube and then toured the campus. It was amazing to see acres of barley going through the malting processes.
We were back home at East Side Neighborhood Services for our April Meeting, with two topics: BIAB (brew in a bag) and we did a triangle test to finish the Yeast Pitch Rate experiment with Experimental Brewing.
To learn more about what happened with the pitch rate experiment, go here.
What to learn more about BIAB? Check out our Education Page, and come out to Big Brew Day! There will be single and multi-vessel brewing systems on hand.
Upcoming Events
Taproom Takeover
On Thursday May 4th we will be having a taproom take over at Inbound Brewing. 7pm until whenever.
Big Brew Day
On Saturday May 6th we will be brewing at Northern Brewer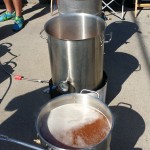 Minneapolis for AHA Big Brew Day. We will have the club system out brewing the AHA IPA recipe. Will will also be grilling up some brats and sharing some beer. We encourage you to bring your mobile brew setup and brew onsite with us. Northern Brewer will provide access to power and water, as well as the base malt for the AHA BBD recipes! Even if you don't brew stop by for a brat, a beer and some conversation. Show up to hear about a special renewal offer from the AHA.
Barrel Empty and Fills
We will be emptying and filling three of our barrels in May, two of our sour red wine barrel and our one buffalo trace bourbon barrel. Check out the Google Group discussion for details. Our barrel projects are a benefit to club members, if you wish to get involved you need to be a member in good standing. Come to one our month meeting to find out more.
May Monthly Meeting
Our May meeting will be held at East Side Neighborhood Services on Thursday the 18th. Our education topic will be about Patagonia Malt, Malt from the end of the earth. All are welcome, come out to see what our club is about.
Single Hop Brew Day
On Saturday May 20th NorthGate Brewing is hosting us for our 6th Single Hop Experiment. Each participant will receive 6 to 7 gallons of  Pale Ale wort from NorthGate's system to boil and ferment with their own hop choice.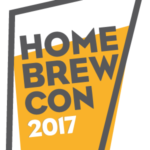 Homebrew Con Beer tasting
To prepare for pouring at Homebrew Con we are having a beer tasting to ensure the beers we are bringing meet our criteria. This tasting will be held at East Side Neighborhood Services on Saturday June 3rd at 1:00pm. If you brewed a beer for HBC bring 48oz to this tasting so it can be reviewed.
Homebrew Con Pre Party
We are having a party! The week of HBC, on Tuesday June 13th from 6pm to 10pm at NorthGate Brewing. We will have some collaboration beers on tap and Natedogs will be serving hotdogs. Pay as you go. We hope to see you there, feel free to invite your beer friends!
Homebrew Con pouring
We are pouring lots of beer at HBC, Yakima Valley hops beers at their vendor booth, a selection of beers at the social club bar on Thursday afternoon and then our best beers Friday on club night. Keep an eye out for sign up sheets to help us out.
We hope to see you at one or all of these events!