October was another busy month for the Nordeast Brewers Alliance!
NBA Tasting Notes
October 7th was the Big River Brew Fest at ESNS, and we had a great showing!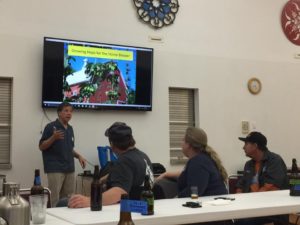 Monthly meeting
October 19th was our monthly meeting, with special hop growing presentation from Mark Catlin.
This was a great learning experience while we enjoyed club beers that featured home-grown hops. We are also excited to partner with Mark to conduct sensory testing of his hops in our beers!
Friends of the NBA
October 20th saw NBAers descend on Surly for Darkness Day eve fun.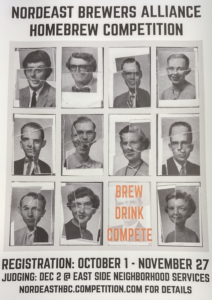 And we wrapped up tasting beers brewed with Barke Vienna Malt for a Chop N Brew segment – look for that to come in the near-ish future!
November is building up as well, headlined by the NBA Homebrew competition entries opening October 30th and closing November 27th.
Also, don't forget about the merch – get it before it runs out!
-New T-Shirts – $15
-Old T-Shirts – $10
-Hats – $10
-Buy any two items and get $5 off.
As we move into the end of the calendar year, there are a few more events to watch out for:
November Monthly meeting with the planned education topic of off flavors. We will have tasting kits to help identify specific off flavors in your beer, and what some potential solutions may be.
January is the NBA winter party. Our meeting in January our yearly kick off party were we gather to share food and beer, vote for officers and renew memberships. We also run our club high-gravity competition. The rules are simple, an 8+% beer brewed in 2017. The competition is pretty free form being run in a 'which-beer-to-do-you-like-the-most' format. So get those beers brewed and be on the look out for a sign up sheet.
The Minneapolis Norther Brewer retail location is also going to be remodeled. The store will be closed from October 30th – November 10th with a Grand Re-Opening on November 18th.
The NBA has been invited to be a part of the Grand Re-Opening. We have an opportunity to have beers on tap in the store and brew outside in the parking lot, in the store or on their new front patio.
We will bring the club system out for brewing and the jockey box for serving, So if you have a beer you would like to share on that weekend let us know. If you would like to bring your mobile brew system out that be awesome too, the more the merrier.