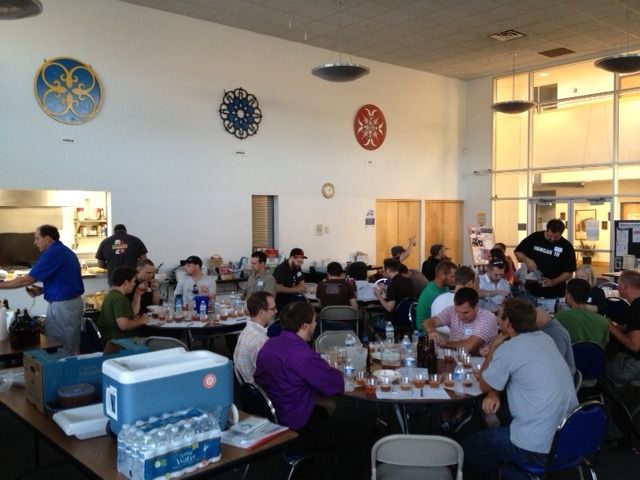 What Time: 7-10pm
Where: East Side Neighborhood Service 1700 2nd Street NE, Minneapolis, MN 55413
Where: The room to your left immediately as you walk in the front door.
What: Single Hop IPA tasting
What Hops: 18-20 Varieties!
Facebook RSVP – Please let us know that you will be joining as we need to plan on how many beers to bring, how many cups(we are thinking 1,000 might be enough), and how much food.
https://www.facebook.com/events/103853179755938/
Back in the NBA's infancy, the group did a single hop experiment that made for an entertaining meeting. We'd like to do this again, 2012 style. Per discussion in the 4/21/12 meeting, we'll be doing Northern Brewer's Two Hearted IPA clone recipe (Dead Ringer), substituting your chosen hop for Centennial in measured amounts and intervals so as to create the same amount of IBUs with each addition.
TimeFrame –
Bulk Grain Buy:  May 10th deadline
Brew Day:  June 15th
Dry Hop for 5-7 days.
Bottle or Keg by July 1st-7th!
Sample side by side on Thursday JULY 19th
Below you will find the recipe to use as well as the list of who has signed up for which hop. Email the Google Group with your chosen variety if you'd like to participate. No duplicates please!
Steve M. – Columbus – brewed
Dan S. – Nelson Sauvin – brewed
Justin G. – Zythos – brewed
Kevin S. – Chinook
Matt P. – Czech Saaz –

brewed

David T aka The DTs – US Saaz – brewed
Nathan G. – Pacific Jade – brewed
Tim S. – Northern Brewer
Tom – Ahtanum – brewed
Tyler B. – Citra – brewed
Aaron – Mt. Hood – brewed
Brendan – Cluster – brewed
Nick K- Summit – brewed
Davis Kessler – Warrior – brewed
Brian J – Galaxy – brewed
Ryan/Nick (Brothers Patrek) – Centennial – brewed
Matt W – Motueka

Kevin (Northern Brewer) – Amarillo –brewed
17 July 2012 – 17/20 batches brewed
WATER
KANDIYOHI water (cheap and available at Rainbow Foods)
MASH INGREDIENTS (target OG of

1.064

assumes >65% efficiency)
11 lbs. Rahr 2-Row (or 9.15 lbs Gold malt extract syrup)
1 lbs. Briess Caramel 40
MASH SCHEDULE: single infusion
Sacch' Rest: 152° F for 60 minutes
Sparge: 170° F for 15 minutes(batch sparge) or however long it takes you (fly sparge).
BOIL: 60 min.
60 min. addition = 22 IBUs
20 min. addition = 30 IBUs
5 min. addition = 6 IBUs
Target IBU – 55-60 IBU's using Tinseth
DRY HOPS
1 oz. of your chosen hop – add one week before bottling day.  Do not dry hop for more then 7 days!!!
YEAST:
SAFALE US-05  (DRY YEAST) – 1 packet (not re-hydrated)
Please just dump the packet directly into the cooled wort, we don't want to risk contamination or variation by rehydrating the yeast.
FERMENTATION
Aerate Wort
Chill wort to 63-65 degrees
Start fermentation at 63-65 degrees
Please try not to let fermentation get above 68 degrees in the first two days of active fermentation.