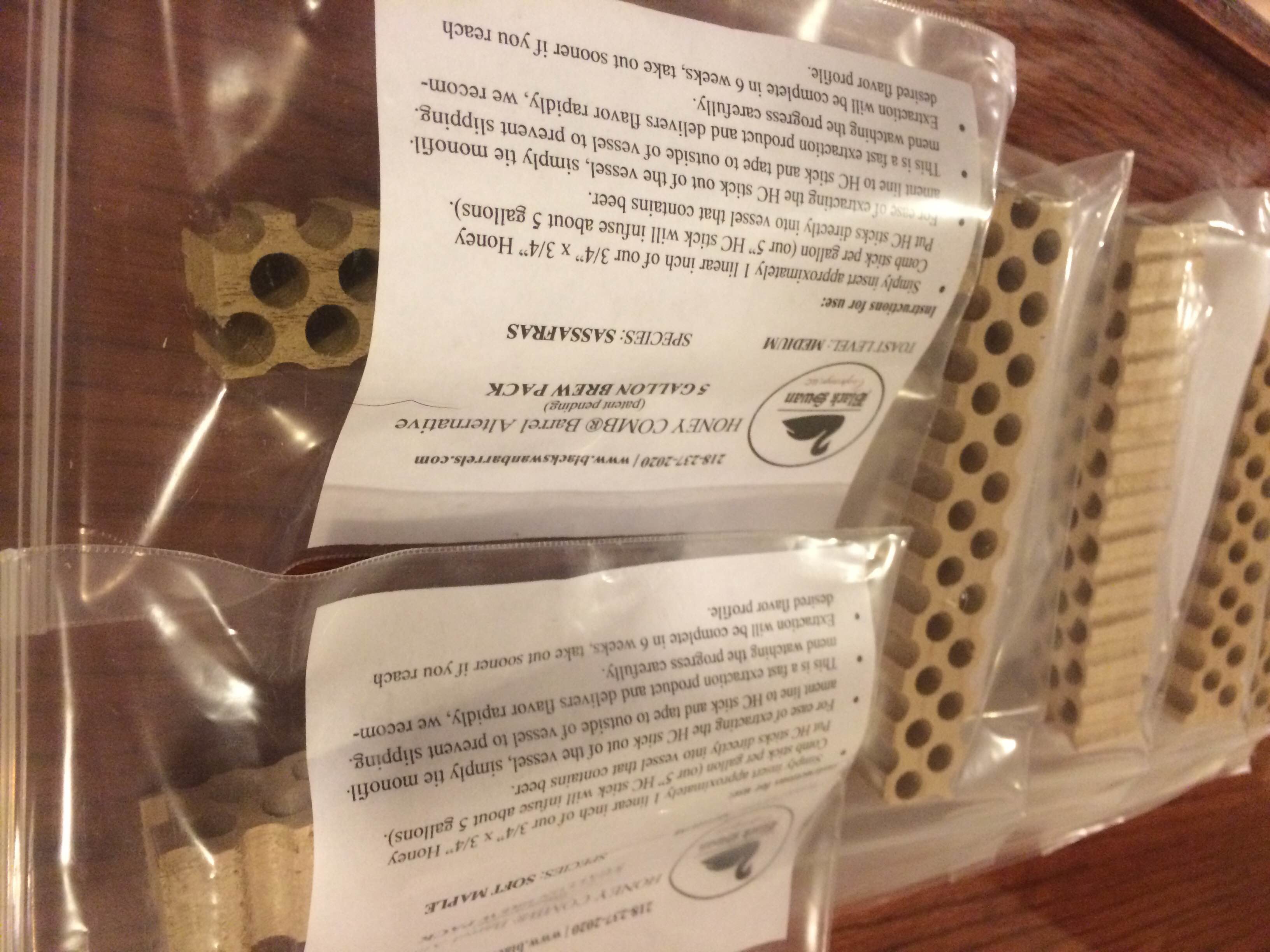 Aging beer in barrels, be it whiskey, wine or bourbon, allows for a variety of characteristics to be imparted into beer that are normally not achievable.  The only issue with barrels is that they are sometimes out of the reach for the average homebrewer.  Cost, space and batch size can eliminate barrels from a homebrewer's repertoire.  Enter BlackSwan's honeycombs.  These ~5″ wood honeycombs claim to impart barrel-aged characteristics into a 5-gallon batch of beer.  The NBA happened on a stash of these, and given our affinity for barrels.. this seemed like a necessity.
Purpose: Utilize various wood honeycombs to impart barrel-aging characteristics into beer, and compare the results to how we have seen barrels function.
Methods: Seven members walked away from the February meeting with a honeycomb with the following instructions.
 Brew a 5-gallon batch of your choosing.  Choose a style that you think would bring out the best in your wood sample.

Record the Style, Ingredients, Mash temp and duration, OG, FG, and Temperature during fermentation.
Describe why you chose the style.
Pitch according to MrMalty.com.

Transfer the beer to secondary after FG achieved.
Submerge wood sample in Star San solution for 2 minutes.

Add to secondary for a target of 3 weeks (based upon taste)

Package beer – Bottle, Keg, Cask, whatever is appropriate for style
Per Black Swan, here's what each of the wood types should impart into the beer:
Cherry – Butter brickle, ripe cherry, fresh grass, meringue, light fried bread/Belgian waffle
Hard Maple – Maple candy, light spice-nutmeg, cinnamon, syrup, bread/bakery, cream hint of cocoa
Hickory – Honey, BBQ, hickory smoked bacon, apple sauce, cocoa coconut
Red Oak – Red berries, toasted marshmallow, light grass, baking bread, butterscotch
Soft Maple – Yellow cake, light smoke, banana, nut, toasted bread, hint of orange spice
White Ash – Campfire, marshmallow, light grass, rising bread dough, light sweetness (adds different mouth-feel dimension)
White Oak – Vanilla, toasted coconut, cinnamon, pepper, sweet baked bread, caramel
Yellow Birch – Toffee, butterscotch, honey croissant, light lemon, tropical fruit
Sassafras – Vanilla, Sage/Spice, Root Beer, Mint
Results: Beers were sampled at the April club meeting.  Here's a breakdown of each beer, the attributes, and what we thought of them.
Beer 1: White Ash Kolsch
6 lb pilsner LME
1 oz Tettanger @ 20
1 oz Perle @ 20
1 oz Sweet Orange peel @20
Yeast Wyeast 2625 Kolsch
OG: 1.042
FG: 1.009
Wood added for ~4 weeks
Why this beer style: "White Ash is used to make baseball bats. Baseball makes me think of spring and summer, when I want a lawnmower beer. White Ash does not have a pronounced/strong flavor, which should allow it to come through on a kolsch which is lighter is flavor by nature."
Tasting Notes: While still light and clean,some traditional Kolsch characteristics were slightly muddled by a creamier mouthfeel, and some floral/grassy notes. Of all the samples, this one exuded the least amount of wood flavor.
Beer 2: Yellow Birch IPA
12lb Pale 2row
1lb Munich
0.5 lb Crystal 60
0.5 lb Carafoam
0.5 lb Melanoiden
F***ton of Citra
2 packs of US04
OG: 1.065
FG: 1.006
Wood added for ~4 weeks
Why this beer style: "umm, Citra hops are supposed to be tropical fruity too."
Tasting Notes: Chad was kind enough to bring two samples of the same split batch, with and without wood.  The "unwooded" beer was a tasty pale ale, with a nice fruity hop profile.  In the "wooded" sample, diacetyl in the form of butterschotch was a pleasing contribution from the wood. It seemed like the hop profile may have been subdued, though some did perceive a bitterness that seemed to be imparted by the wood.
Beer 3: Sassafras
8 lbs Franco Belges Pilsner
10 ozVienna
8 oz Golden Naked Oats
1 oz Santiam 60min
1 oz Strisselspalt 20min
1 oz Strisselspalt 5min
0.5 oz Saaz (x2) 20min & 5min
OG: 1.046
FG: 1.000
Wood added for 3 weeks
Why this beer stye: "Saisons can be modified and adapted in a variety of ways, why not wood?"
Tasting Notes: Mint, sage, and a rye/spelt-like spice was very evident. This beer was a nearly unanimous determined to be greatly aided by the wood characteristics (except for the one taster who is very sensitive to mint.) The wood seemed to add more Belgian characteristics, even a touch of root beer or sasparila flavors.
Beer 4: Hard Maple
73% 2 row
13% Cara pils
6% Belgian Biscuit
3% Carmel 40
5% table sugar at 55 mn of 60 mn boil
1 oz northdown (8.6%) @ 60 mn
1 oz East kent golding (6.4%) @ 45mn
1 oz fuggle (5.1%) @ 15 mn
Dry English Ale Yeast
OG: 1.066
FG: 1.013
The full 5″ wood sample was added to a 3 gal batch for 3 weeks.
Why this beer stye: "1) I had it available, 2) I had enough to do a split batch and 3) I figured it was mild enough that I thought I might be able to taste the wood."
Tasting Notes: John also had a split batch to sample the "wooded" and "unwooded versions." The unwooded version was a very nice pale ale, noticeable hop aroma and flavor you would expect in a pale ale.  The wooded version had a significantly muted aroma, and had aroma and flavor contributions reminiscent of sugary maple. The maple came across more like maple candy than maple syrup – less obtrusive than some had expected.

Discussion: Each of the beers was unique in their own right.  We did not attempt to control all variables since brewing is an art and that art is specific to each brewer and style.
Not all wood is created equal
While each of the wood samples contributed to to the final beer, the effects were noticeably different. White Ash had minimal effects even after additional aging time, while Sassafras completely changed a saison to make you think it was 25% rye.
Considerations of wood-aged beers
Yellow Birch was said to give a butterscotch note, and without knowing this was added, the beer would have been dinged for significant amounts of diacetyl. Even if this were to be entered into competition, you would want to ensure the judges understand what the wood should be imparting.
Overall observations
Even though each beer wasn't the same, on all samples, the general consensus was that the wood added a favorable change to each beer. A goal of this experiment was to make drinkable beer, and that goal was achieved.
Could these barrel-alternatives be used to make wood-aged beer? Definitely. These appear to be great alternatives, especially given all of the other considerations about barrel storage and maintenance.
To better understand the effects of each wood, the next step would be to have everyone brew the same beer, but use a different wood sample in each.
This mini-experiment really just scratched the surface, these woods could be soaked in spirits first, given an additional toasting to explore other ways to change your homebrew.