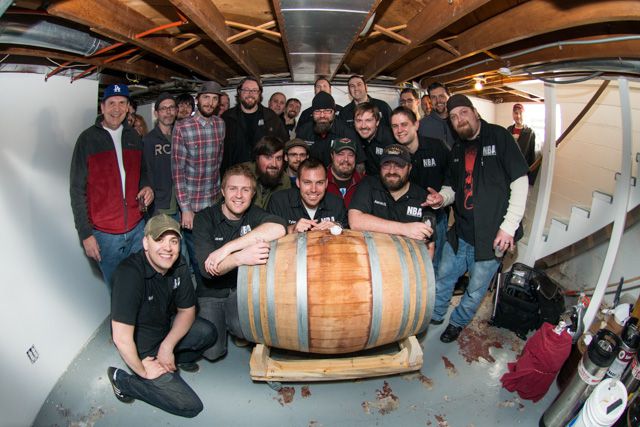 Barrel project 2.0 is our second foray into communally filling barrels with homebrew. We have sourced four French oak red wine barrels from Casey Holley who is so graciously allowing us to use them for our club. Cellar master Aaron De Boer is keeping them in his barrel room for the long haul.
Check out the Chop and Brew video highlighting project 2.0: Chop and Brew #7
Current Status:
We are preparing to bring a number of barrel beers to NHC 2017!
Timeline:
Flanders our, Flanders in. (1/28/2017)
Belgian Dark Strong (Turned Sour Strong) Out, Lambic #2 (Spelt & Rye) in. (6/25/16)
Acid wash out, Farmhouse Red in. Saison out, Lambic #1 (Wheat) in. Flanders our, Flanders (clean) in. (12/19/2015)
Porter out, acid wash in. Saison out, Saison in, Flanders our, Flanders in. (6/8/2015)
Barley/Rye Wine out, Porter in. Flanders out, Flanders in. (11/22/2014)
Belgian Dark Strong Out and Belgian Dark Strong in (4/26/14) 
Acid wash out and Rye Saison in (3/29/14)
Acid wash out and Belgian Dark Strong in (2/15/14)
Rye Saison and Wee Heavy out, acid wash in (1/11/14)
RIS was transfer out and Barley/Rye Wine transferred in (12/15/13)
Barrel Fills:
Barrel #1 – Cabernet (Fields)
Barrel #2 – Merlot (Fields) 
Barrel #3 – Zinfandel (McCay)
Barrel# 4 – Zinfandel (McCay)