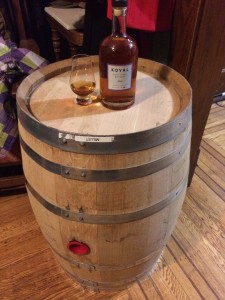 The third endeavor in to barrel aging for the NBA is a Koval barrel. This is a single fill millet whiskey barrel, freshly emptied and express shipped from Chicago to Minneapolis.
The first and second fill were both a relatively small American Barley Wine, the first hopped with El Dorado and the second hopped with Horizon. The second fill was pulled on the 8th of November 2014.
The barrel was refilled with a Imperial Red Ale hopped with a large amount of Chinook. This beer turned sour and was dumped as the bitterness and sourness where not complimentary.
This barrel now enters our arsenal of sour and funky barrels. Its currently housing an Oud Bruin style beer. This barrel is small so participation is limited. We look forward to see how this barrel continues evolve in our barrel program.