In my ever-extending need to tinker with my brew system, I am upgrading my dedicated HERMS set up to an easier to clean piece of equipment (not to mention take another step to add a piece of stainless steel).
One of my concerns with RIMS in the traditional RIMS is the direct contact of wort with the element scorching the wort. Then I found this thread on HomeBrewTalk. Now I know what my next project is!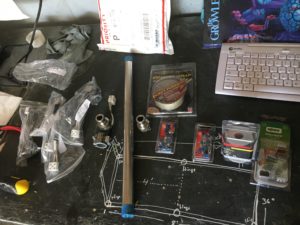 The parts list for my specific build:
1 – 18″ x 3/4″ NPT stainless steel pipe
2 – 3/4″ x 1/2″ male camplock connections
5 – 1″ band heaters 300W
1 – 3″ PVC tube
2 – 3″ PVC caps
1 – header wrap insulation
I had the wire and supply cord already from HERMS vessel, so I did not need to purchase that. The great thing about this, once you start, it moves along really fast! with the wiring I was done in about 3 hours, including testing and chat time as the neighbors came in to check on what I was working on.
I slide the five band heaters on the pipe, you can use more, as I may, as long as your power source supplies the needed juice. The orientation is important during this step as it will impact how you are able to wire and insulate within the protective tubing.
Once the band heaters were on, it was time to connect the wires to supply power and wrap with the header insulation. I recommend using as much insulation as you can to preserve as protect as much as possible.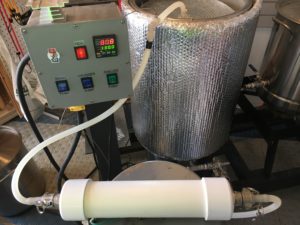 Everything then slides into the PVC tube, and you will need to drill 1″ + holes in the PVC caps for the threaded ends to slide thru. Then with some teflon tape you add the quick disconnect ends and keep everything in place. This provides splash protection for the heaters. And as always, use GFCI, safety first!
When testing with 3 gallons of water, ramping was a bit slow, I was getting .75F per minute at slightly less than a 1 GPM flow rate.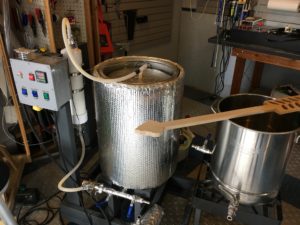 The final step was mounting the tube, and went with a vertical orientation to help reduce any air pockets that may develop.
This is the eRIMS on it's maiden voyage mashing 5 gallons of Oktoberfest!