Another Single Hop Experiment is in the bag.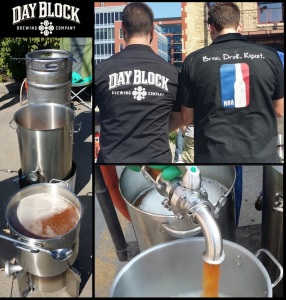 Our 4th annual S.H.E. started with a brew day at Day Block Brewing in Minneapolis.
Day Block mashed up a grain bill consisting of 2-Row, Victory and Munich Malt. We each  took a kettle's worth of wort to boil with our selected hops to 35 IBUs. All beers were then fermented with US-05 and dry hopped with an oz of our selected hops.
The experiment culminated with two separate tastings with a total of 23 beers.
The hops ranged from some of the classics, to newer varieties and even some blends.
Sterling
 
Northern
Millemium
Meridian
Galaxy
Glacier
Stella(aka Ella)
Columbus
El Dorado
Falkners Flight
Simcoe
Nugget
Willamette
Falconer's Flight 7c's, Centennial, Caliente, East Kent Goldings, UK Pilgrim, Citra, Warrior, Whitbread golding, Ahtanum, Jarrylo
This was another successful S.H.E. and we look forward to continuing this event for years to come.