Single Specialty Malt Experiment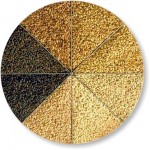 The Single Specialty Malt Experiment is the first in our Mini Experiment project. 10 members signed up to brew the same beer with different specialty malt. The resulting beer was tasted at the August meeting. The base beer was an American Pale Ale. The specialty malts were:
Biscuit
Victory
Rye Malt (Briess)
Golden Naked Oats
Nocturnal Select Grain Blend
Special Roast (Briess)
English Chocolate Malt
Franco-Belges Kiln Coffee
Caramel 90
Special B
This was an awesome Education/Experiment Topic. It really showed how a small amount of certain types of malts could strongly affect the final beer while at the same time show how subtle the difference could be between other malts. It also gave some people that chance to brew with and taste a specialty grain they have not used before. A very awesome Mini Experiment. A big thanks to the brewers and especially Tim S. and Steve M. for pulling it together.
Mini Experiments
If you would like to setup your own Mini Experiment let us know at the next meeting!